Marcel's Site


Welcome

Form for Comments
Vegetarianism


Being a vegetarian

Mutton-Noodles
Spicy Recipes


Burdock

Coleslaw

Dandelion

Chinese Dumplings

Chinese Noodles

Apple Sauce

Bean Sprouts

Sweet/Sour Vegetables

Peppers with Polenta
Oriental Diet


Oriental Diet

Obesity

Anti-Cancer foods

Herbal Remedies
Seasonal Periods


Chinese Seasonal

Winter Solstice

Summer Solstice
Links


Links


Spicy Recipes
Peppers Stuffed with Polenta
Peppers Stuffed with Polenta
(Vegetarian)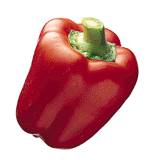 Ingredients:
2 red bell peppers (Capsicum annuum)
1 yellow bell pepper (Capsicum annuum)
2 green bell peppers (Capsicum annuum)
1 pound polenta (cornmeal, Italian style)
2 cups chopped spinach
1 tomato peeled and chopped
1 large onion chopped
6 garlic cloves minced
fresh or dried chilies or chili powder
fresh parsley chopped
olive oil (or any polyunsaturated oil)
grated Parmesan cheese
freshly ground black pepper and salt to taste
Directions:
Halve the peppers, and remove all seeds.
Sauté (fry lightly in oil) chopped onion, minced garlic, spinach and peeled tomato.
Boil cornmeal in water. (polenta is a thick mush made of cornmeal boiled in water)
Mix boiled polenta with the sautéed ingredients.
Season the mixture with chilies, 3 tablespoons of grated Parmesan cheese, some black pepper and very little salt.

Now stuff bell peppers with the mixture and place them in a shallow baking dish.

Bake peppers in an oven at 350(F), 180(C) for about 35 minutes.
Take the peppers out and lightly brush the tops with olive oil.
Bake for another 10 minutes or until peppers are cooked.

Sprinkle grated Parmesan cheese, parsley and freshly ground black pepper on top and serve.
Serve peppers with salad and whole-wheat bread - together with a glass of Italian red wine.


Have a good day!